Edwards' Past
Est. 1875
Edwards Manufacturing was started by Charles Douglas Edwards in 1875. The first product manufactured was the Open Ditcher, made to drain swampland. The Open Ditcher could only be operated during the dry season, so there was a need to expand the product range. Edwards branched out into a wide variety of manufactured products including Road Graders, Manual Shears, Farming Equipment, Rotary Snow plows, Waterloo Bar Benders, Intake Grates, and many more products throughout the years. Horse-drawn Road Graders were a main focus of Edwards in the early 1900s. In 1928 Edwards had over ten different models of road graders. However in the 1930's Horse-drawn graders fell out of favor and Edwards focused on some of their other products. Metal Culverts became a main focus of Edwards from the '30s to the '80s. Their other focus was the Manual Shear, a single blade with a large handle giving the operator enough leverage to cut metal. These products would eventually continue to be improved and evolve into the ironworkers of today.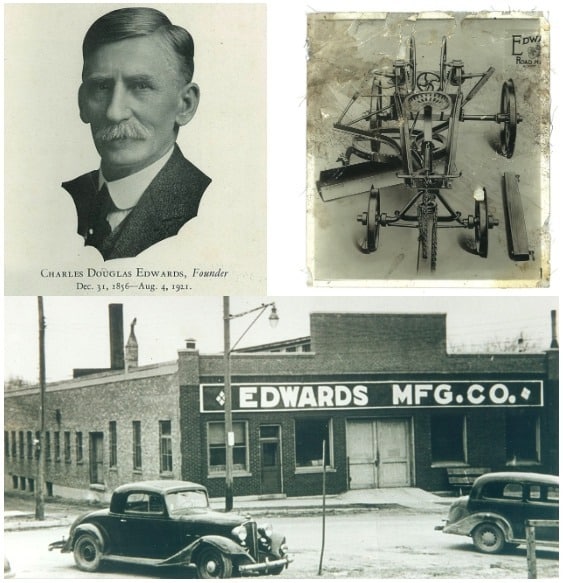 Edwards Today
Today Edwards Manufacturing is primarily driven by its production of Ironworkers. The JAWS line of Edwards Ironworkers has recently been expanded with the addition of the new Edwards ELITE line. Edwards ELITE Ironworkers boast high-quality design and a host of integrated features. Both lines of Ironworkers are bolstered by our extensive line of Tooling Accessories, giving the user the ability to tailor their Ironworker to their specific needs. The Ironworker line is further complemented by a line of innovative Hydraulic Accessory Tools, powered by an Edwards Ironworker or the Edwards Porta Power, a portable hydraulic power unit. These tools expand the abilities of your shop quickly and economically.
Edwards Manufacturing designs and manufactures more than Ironworkers. The Edwards Strut Pro is an innovative hydraulic tool for cutting commonly branded strut products. The Tru-Chek Rain Gauge is an extremely accurate, heavy-duty rain gauge ideal for a wide range of users.